Social, Environmental and Economic Key Data 2019
Sustainability is an integral part of Rieter's strategy.
Sustainable spinning process thanks to Rieter technologies
Rieter technologies stand for sustainable spinning processes which have a major impact on the lowest possible consumption of energy, water and chemicals, make efficient use of raw materials, consume energy in a sustainable and efficient manner, and are extremely advanced in the use of recycled fibers. Therefore, Rieter has set itself the goal of developing products and system solutions for its customers that allow them to produce in a more environmentally friendly manner, whether as a result of reduced raw material input, lower energy consumption or through the development of modern technologies for processing recycled fibers.
Digitization plays an increasingly critical role here. ESSENTIAL, the Rieter Digital Spinning Suite, already measures energy consumption, quality data and key production statistics along the entire process chain in many spinning mills around the globe. Through permanent monitoring and by setting benchmarks, inefficiencies are quickly identified and can be remedied without delay, thus significantly reducing resource requirements.
Energy-efficient and ecofriendly internal manufacturing concepts
Rieter implements energy-efficient, environmentally friendly internal production concepts that reduce energy consumption. Fossil fuels for heating and cooling are replaced by renewable energies. Electricity from renewable energies and the reduction of water consumption and waste also play an increasingly important role.
Safe and healthy workplaces
The occupational health and safety programs that were introduced in recent years are having an impact. The number of accidents at work has been reduced across the Group. In particular, on-the-job training of employees aimed at raising risk awareness in the areas of accident prevention, risk consciousness and workplace safety has had a positive impact. Global guidelines and standards were revised and responsibilities defined more clearly at all levels. Locally, various improvement projects were initiated and implemented in relation to occupational safety; this includes for example enhanced ergonomic workstations and the consistent use of personal protective equipment.
Global targets for the environment, health and occupational safety have been set annually since 2012. Target achievement is reviewed worldwide as part of reporting as well as self-assessments and systematically addressed at management meetings.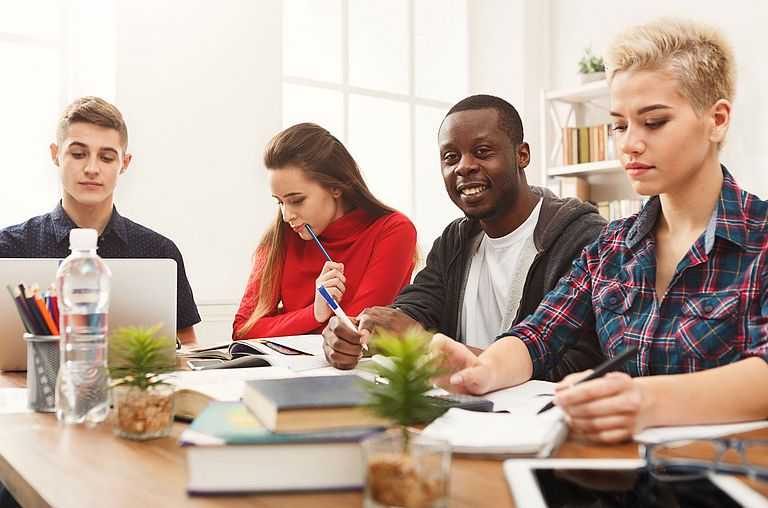 Continuous training and learning
Rieter needs competent employees to produce high-quality products and services. Know-how, commitment, flexibility and loyalty are the key to success. Therefore, the development of Rieter employees is of great importance. Development action does not only mean attendance at training courses and seminars. Training on the job is even more relevant. This includes job enlargement and enrichment, job rotation, project-related and international assignments, promotions etc. Rieter always pay attention to giving these opportunities to all employees in order to prepare them systematically for the challenges of the future.
Motivation and ability of our managers are crucial to how well Rieter is prepared for the challenges of the future. Rieter needs high-performance individuals who understand the company and its challenges. For this reason, Rieter focuses on the promotion of talented professionals. The aim is to fill a high percentage of management positions with employees from within the company. Therefore, Rieter goes through a structured succession planning process on an annual basis and thus creates the prerequisites to identify potential internal successors. Besides, systematic, forward-looking succession planning enables potential candidates to prepare for a new position and ensures efficient know-how transfer.
And it goes without saying that diversity is an issue that is taken seriously at Rieter, at all levels of the organization. But diversity at Rieter is not limited to the topic of men and women. It is equally important for the company that the different markets in which Rieter operates are represented in the company's management.
SUSTAINABILITY SUCCESSES IN THE RIETER GROUP 2019
In the reporting year, Rieter managed to reduce total energy consumption by over 5 000 MWh. Greenhouse gas emissions declined by 15 percent and acidification fell by more than 8 percent. Waste and recycling volumes were reduced by 2 562 tons. The improved values are the result of corporate initiatives in recent years. Another initiative was also launched: old heating and ventilation systems will first be identified and then replaced by new, energy-saving systems and alternative energy sources. The necessary funds will be included in the budget planning for the coming years.
Solar system inaugurated at Rieter India
In September 2019, Rieter CEO Norbert Klapper inaugurated a 2 MW solar system at the Rieter India production site in Wing. With an area of 27 000 m2 , it provides 25 percent of the annual electricity consumption and reduces the annual CO2 emissions by 2 500 tons. These figures were confirmed in the last quarter of 2019: a total of 564 tons of CO2 were saved by producing solar power.
Rieter relies on renewable energies
In 2019, Rieter fulfilled the prerequisites for generating power using photovoltaic systems and hydropower at its site in Winterthur (Switzerland). Starting in 2020, the company will use this power to cover a substantial proportion of its annual electrical energy requirements. In addition, Rieter is planning to build further solar energy plants on the roofs of the production sites it owns.
In Winterthur, too, Rieter promotes the use of electromobility by its employees, where ten newly installed charging stations for electric vehicles have been provided.
Added value through longer service life
The Bräcker traveller C1 ELM udr guarantees a service life 30 percent longer than any other product available on the market. In this way, it contributes to the effi ciency of the production processes in spinning mills. The advanced development was achieved through a new design and the use of even better materials.
A completely energy-efficient portfolio
At ITMA 2019 in Barcelona, Rieter presented an almost completely upgraded portfolio for all four spinning systems established on the market. The aim of these innovations is to increase productivity and flexibility and to reduce raw material costs (see also: Using raw materials efficiently) and energy costs (see also: Making significant energy savings) in the spinning mill. Customers benefit from the advantages of each individual machine. By contrast, complete Rieter systems build on the know-how in the entire spinning process: from raw material to yarn. The outstanding economy of the perfectly aligned complete system brings significant energy savings with maximum productivity.
Using raw materials efficiently
Rieter technologies enable customers to make very good use of raw materials. When producing combed yarns with a Rieter compact spinning system, the customer achieves raw material savings of one percentage point compared to "mixed systems" with the same good yarn quality. This is due in large part to the high-performance card C 80 with maximum technological cross-section and individually loadable preand post-carding zone, as well as the comber E 90 with high-quality technology components for optimally aligned combing movements.
Another approach is to process less expensive cotton with a higher percentage of noil or trash into yarns of merchantable quality. This is what the new direct rotor process is all about. The card C 80 and the regulated draw frame module RSB-Module 50 with two draft zones provide clear advantages in terms of yarn regularity compared to modules with only one draft zone. In conjunction with the fully automatic rotor spinning machine R 70 and its more efficient trash removal, it is possible to spin yarns with considerably greater strength. Even in the range finer than Ne 30, yarn with a high degree of regularity can be produced from a cotton blend with over 50 percent noil.
Making significant energy savings
Energy-efficient solutions and high production output bring significant energy savings throughout the process. In fiber preparation, the blowroom line VARIOline with the new ECOrized option offers 30 percent energy savings when conveying fibers. Intelligent software dynamically controls all fans. When no material is being conveyed, the fan speed decreases. The energy requirement in rotor spinning was also reduced further. The fully automatic rotor spinning machine R 70 has an extremely efficient extraction system. Energy-saving automatic filter cleaning and optimized air flow reduce the energy requirement by up to 5 percent. State-of-the-art, electronically controlled individual drives are highly efficient. The individual drives do not consume energy when a spinning station is not in operation.
Recycling high-quality cotton fibers
Countless tons of old clothes are discarded every year. Recycling these brings great environmental benefits, because processing these fibers requires no fertilizer, pesticides or water. A great deal of knowhow is required to recycle high-quality cotton fibers.
That is why Rieter defines the process sequence, settings and components in its own spinning centers so that customers can optimally recover rotor and ring yarns from used clothing.
TARGETS 2020
Targets per CHF 1 000 of sales:

0

Energy consumption

0

Greenhouse gas emissions

0

Acidification

0

Water consumption

0

Waste and recycling
ENVIRONMENTAL SUSTAINABILITY
Constantly reducing the consumption of resources is a major concern for Rieter. The company strives to add value for its customers by developing machines, systems and components. In this way, it makes an important contribution toward more sustainable production by its customers. This results in lower energy consumption, optimal use of resources and waste prevention.
At the same time, Rieter continuously optimizes its own energy consumption and uses renewable energy sources. This leads to minimal pollution of the environment and better utilization of raw materials in its own production. Rieter identified these sustainability factors decades ago. The company consistently takes account of these factors in product development and production.
Energy consumption
Absolute energy consumption fell by 5 092 MWh – or over 4 percent – to 117 861 MWh in 2019. In relation to corporate performance, energy consumption rose to 0.15 MWh/CHF 1 000 of sales; however, this is due to the decline in sales in 2019. Given comparable sales, the value would have declined further.
Greenhouse gas emissions
Compared to the previous year, Rieter reduced absolute CO2 emissions in 2019 by almost 8 000 tons – or around 15 percent – to 46 397 tons. In relation to corporate performance, the value of CO2 emissions rose to 0.061 kg/CHF 1 000 of sales. The target figure was not achieved due to the sharp decline in sales in 2019; however, this is a good value compared to the results of recent years. Given comparable sales, the result would have beaten the target value set for 2020.
Acidification
Rieter reduced absolute SOx emissions in 2019 compared to the previous year by a solid 0.84 tons – or more than 8 percent – to 9.12 tons. In relation to corporate performance, the value of SOx emissions rose to 0.0122 kg/CHF 1 000 of sales. The target was achieved despite the sharp decline in sales in 2019. Given comparable sales, the result would have beaten the target.
Water consumption
Rieter kept absolute water consumption at the 2018 level. In relation to corporate performance, water consumption rose above the planned target for 2020, which is due to the decline in sales. Given comparable sales, the 2020 target would already have been achieved in 2019. The major share of the water used (around 64 percent) came from the municipal water supply; ground and surface water accounted for the remaining 36 percent.
Waste and recycling
The amount of waste generated at the Rieter locations in the reporting year fell significantly by 2 652 tons – or 24 percent – to a waste volume of 8 362 tons. The share of externally recyclable waste increased to 85 percent. This achievement is due to the impact of internal waste prevention measures. In relation to corporate performance, the volume of waste exceeded the planned target for 2020, which is due to the decline in sales in 2019. Given comparable sales, the target would have been surpassed.