Parts
Original parts for any Rieter machinery, from classic to the newest generation, throughout the complete life cycle.
Uncompromising quality
Rapid delivery from central and local warehouses
Over 14.5 million parts on stock
Available for the entire spinning equipment
Discover original parts for any short staple spinning machinery, from fiber preparation to end spinning.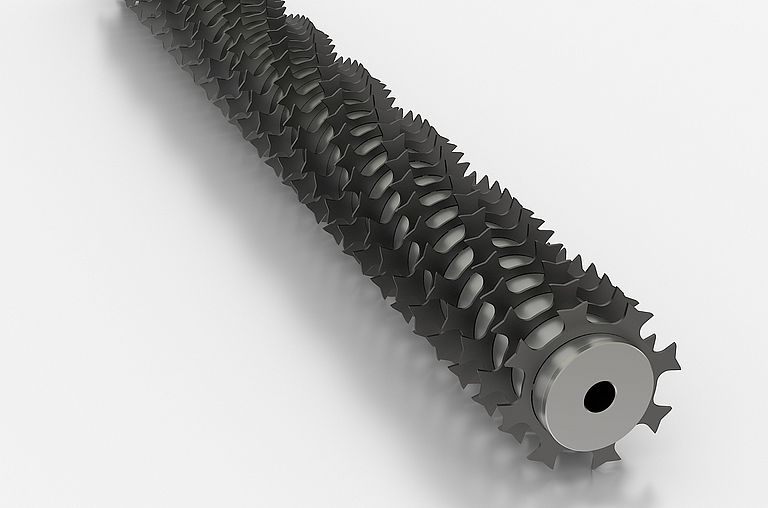 Wobble disc
The wobble disc take-off roller is made out of 39 wobble discs which are welded on a seamless precision pipe which is forming the take-off roller. This take-off roller is used in all current UNIflocs and available also for upgrades.
Customer values
Superior sturdiness
Higher lifetime
Improved running performance (less material choking between grid bar and teeth)
Lower vibrations (improved precision, helix-shaped formation of wobble discs)
Spiked lattice
The spiked lattice removes tufts simultaneously from all layers. Its improved design and optimum needle positions allow intensive and gentle opening of the raw material. The superior reinforcement of the belts makes the spiked lattice wear-resistant. The special links and the aluminum rails ensure long service life.
Customer values
Gentle opening of raw material
Process control due to improved design
Long service life and great stability
Combing nipper
Rieter nippers are adapted exactly to the combers and ensure smooth processing of batt weights of up to 80 g/m. High-precision clamping of the lap in combination with the optimized motion of the circular and top combs results in ideal combing action across the entire range of nip rates.
Customer values
Output increased by up to 15% compared to nippers from other suppliers
Controlled processing of batt weights of up to 80 g/m possible
Reduction in noil content of up to 2% compared to older generation nippers or from other suppliers
1-2% saving of raw material of good fibers
Clip-on pressure bar
The pressure bar in the comber drafting system is an important fiber guidance element. It helps to improve the regularity of the combed sliver by also enabling the rather shorter fibers to be guided accurately. Thanks to its clip-on function, the pressure bar by Rieter is quickly removed and installed.
Customer values
Shorter machine downtimes
Easy handling
Pressure bar can be removed and installed without tools
CLEANcoil
The CLEANcoil is an innovative coiler with patented honeycomb structure prevent deposits of finishing agent on the underside of the coiler by synthetic fibers. Two versions are available: the CLEANcoil for all applications and CLEANcoil-PES for 100 % synthetic fibers.
Customer values
Extended cleaning intervals and therefore longer operating time
Higher can capacity due to neat sliver coiling
Extension of the cleaning cycle from 100 to 800 %, depending on the polyester fibre used
Ri-Q-Cots
The high quality cots Ri-Q-Cots enable outstanding yarn quality and consistent performance throughout the entire lifetime. Grinding characteristics of the cots are favorable which means that shore hardness is retained even after grinding, leading to virtually trouble-free operation over a long period.
Customer values
Superior running properties
Long service life
Original equipment on Rieter machines
Ri-Q-Bridge
As a key component of the drafting zone, the Ri-Q-Bridge achieves the best yarn quality by better fiber guiding between aprons and better movement of the aprons, resulting in better CV%.
Customer values
Improvement in yarn quality
Very stable running behavior
Man-made fiber package available
Ri-Q-Aprons
Ri-Q-Aprons stand for long service life and excellent quality. They feature great wear resistance characteristics, even under extreme conditions, which results to enhanced lifetime. The Ri-Q-Aprons are also recognized for their flexibility, allowing consistent quality over time. No matter what raw material or yarn count is spun, Rieter offers a wide range of different Ri-Q-Aprons to fulfill even the most stringent requirements.
Customer values
High running performance
Long lifetime
Bottom rollers
With a diameter of 30mm instead of the regular 27, the bottom roller by Rieter counteracts the build-up of fiber lap, especially with long fibers.
Customer values
Reduced build-up of the fiber lapping
Higher productivity
High precision
Air guide elements
By means of the precise and constant air flow with the suction inserts Bright and Bright-Twin, the fibers are optimally integrated in the fiber package. The improved air flow prevents deposits of dust and fiber particles. This results in a fully compacted yarn at all times.
Customer values
Flexibility no matter what raw material is spun
Ri-Q-Clip
The Ri-Q-Clip substantially reduces the friction between the bottom aprons and the tension bracket. This results in up to 30% fewer thick / thin places in the yarn and a cost-efficient extension of the bottom apron durability, a better efficiency grade of your machine and improved yarn quality.
Customer values
Long durability
Up to 30% less thick and thin places
Suction drum system
The suction drum system is the only compacting system that offers high machine efficiency without extensive maintenance and cleaning. Two different suction drums are available, one featuring a fluted surface and the other featuring a smooth surface. The selection of the suction drums depends on the yarn count produced.
Customer values
High machine efficiency
Lower maintenance required
Opening rollers
Rieter provides a wide range of opening rollers, for semi and fully automatic rotor spinning. All opening rollers have been developed to ensure a easy and rapid exchange of worn out rollers. The Clip technology available for the fully automatic opening rollers is patented.
Customer values
Substantially reduced maintenance time
Lower maintenance costs
Reduced downtime
Rotors
Whether for semi- or fully-automatic rotor spinning, Rieter offers rotors matching every machine generation and requirements. For fully-automatic, a selection of aluminium, steel or neXT generation rotors are available, in various coating and diameters, for speeds up to 150 000 rpm. For semi-automatic, rotors with appropriate resilient mounting are available. They features different coatings to sustain even under extreme conditions.
Customer values
Extended lifetime
Optimized energy consumption
Take-off nozzles
Rieter take-off nozzles for rotor spinning machines are the results of years of experience and studies about yarn characteristics. They come in various materials (steel, ceramic, nano) and shape to cover even the most stringent demands.
Customer values
Increased spinning stability
Optimum yarn quality
High rotor speeds with nano take-off nozzles
Supporting discs
Only the Rieter supporting discs are exclusively balanced for best running properties at the highest rotor speeds. Extensive measurements have shown an 80% lower residual unbalance as compared with other manufacturers. For synthetic fibers, the ANTIstatic support discs avoid deposits and thus considerably reduce cleaning time.
Customer values
Wear resistant for a longer service life
Lower energy consumption
Lower maintenance effort