Further Orders from Egypt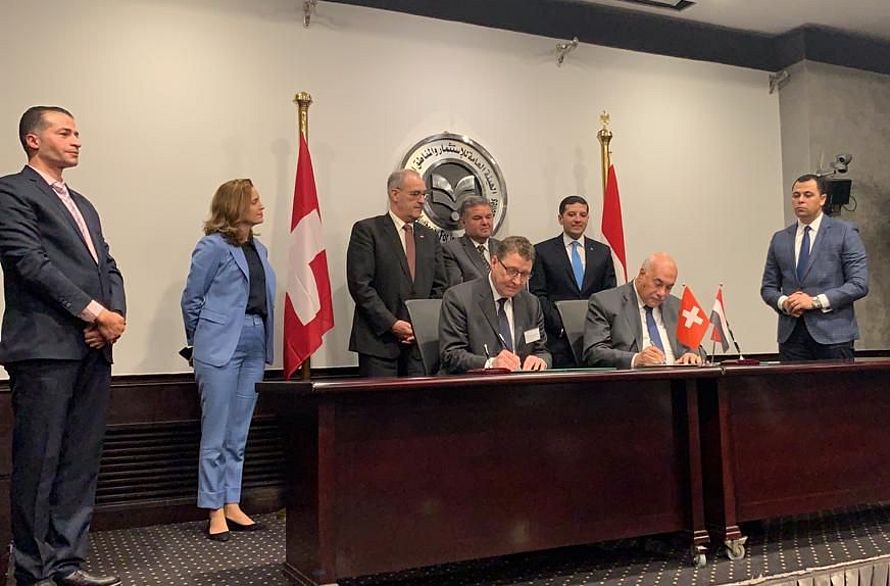 Contracts for additional projects signed in Cairo
Order volume is around 30 million Swiss francs
Order intake in the first half year of 2020 expected
At the Swiss-Egyptian Investment Forum which took place today in Cairo (Egypt), the Cotton & Textiles Holding Company and Rieter signed additional contracts related to the modernization program for the Egyptian textile industry.
In the presence of H.E. Hisham Tawfik, Minister of the Public Sector of the Egyptian Government, and Swiss Federal Councilor Guy Parmelin, Head of the Federal Department of Economic Affairs, Education and Research, the contracts had been signed by Dr. Ahmed Moustafa, Chairman of the Cotton & Textiles Holding Company, and Dr. Norbert Klapper, Chief Executive Officer of Rieter.
The total volume of the contracts sums up to around 210 million Swiss Francs, including the contracts which had been signed at ITMA 2019 in Barcelona and which represent a volume of around 180 million Swiss Francs.
Rieter expects the full amount of orders to be booked as order intake in the first half year of 2020. So far, 165 million Swiss Francs have been booked.
Dr. Klapper was very pleased at the signing ceremony: "The next step of the program we agreed upon today underlines the strong partnership between the Cotton & Textiles Holding Company and Rieter. I would like to thank our Egyptian partners for the confidence they continue to place with Rieter. We will do our best to support the Cotton & Textiles Holding Company in making the modernization program a success."
About Rieter
Rieter is the world's leading supplier of systems for short-staple fiber spinning. Based in Winterthur (Switzerland), the company develops and manufactures machinery, systems and components used to convert natural and manmade fibers and their blends into yarns. Rieter is the only supplier worldwide to cover both spinning preparation processes and all four end spinning processes currently established on the market. Furthermore, Rieter is a leader in the field of precision winding machines. With 16 manufacturing locations in ten countries, the company employs a global workforce of some 4 590, about 21% of whom are based in Switzerland. Rieter is listed on the SIX Swiss Exchange under ticker symbol RIEN. www.rieter.com
Disclaimer
All statements in this report which do not refer to historical facts are forecasts which offer no guarantee whatsoever with respect to future performance; they embody risks and uncertainties which include – but are not confined to - future global economic conditions, exchange rates, legal provisions, market conditions, activities by competitors and other factors which are outside the company's control.