Sustainability with Rieter Machines and Systems
Protect resources and enable sustainability
The limited resources of our planet are forcing us to rethink. Minimal environmental impact, maximum savings in electric power consumption, optimal utilization of resources – these are the sustainability factors that Rieter has already recognized over the last few decades and has systematically and consistently implemented in its system development. When developing sustainable machines, systems and services, Rieter takes into account the entire life cycle of the machinery, thus creating added value for its customers. These machines have been designed to save energy, optimize resource utilization and produce efficiently and economically in order to increase competitiveness.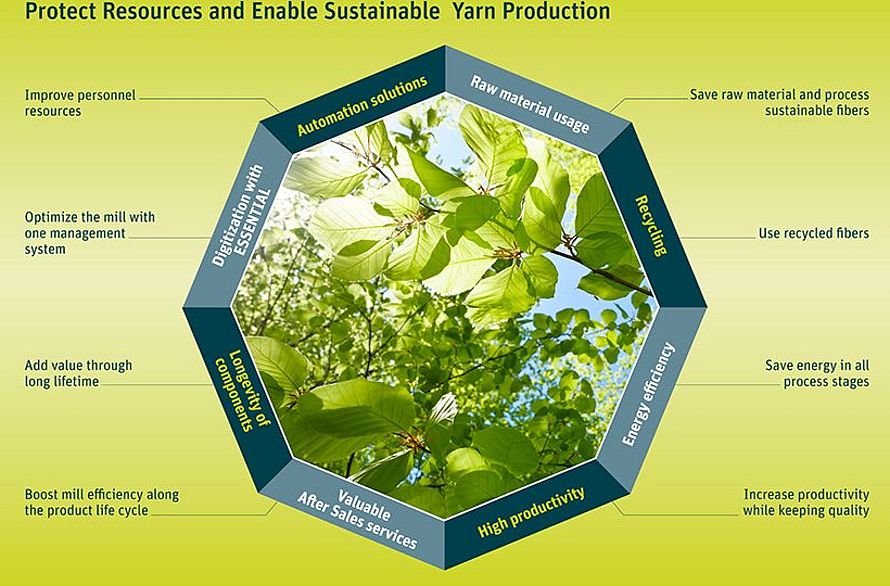 Recycling
Process recycled material into ring or rotor yarns
Today only 1% of the world's clothing is recycled and 73% end up in landfill, but the outlook is expected to be different. Growing consumer expectations and technological advantages will lead to a reduced environmental degradation.
The results of a latest study have shown that it is possible to spin not only rotor, but also ring yarns of different quality with an amount of up to 60% post-consumer material on a Rieter system.
Raw material usage
Innovative solutions for sustainable raw material usage
Rieter technologies involve spinning processes that ensure optimum raw material utilization and thus reduce fiber consumption. They also facilitate the processing of sustainable and recycled fibers, which are playing an increasingly important role. Rieter is driving these innovative solutions for the sustainable use of raw materials and thus creating added value for its customers.
Bast fibers like flax or hemp are, for example, sustainable fibers because for cultivating bast very few pesticides are used and the water requirement is low. Rieter offers tailored, economical solutions for processing bast fibers in short staple fiber spinning. Important is to shorten and refine the bast fibers to give them the same characteristics as cotton. This process is called cottonization. The prepared fibers are spun to a rotor yarn that offers advantages regarding elongation, hairiness and good downstream processing.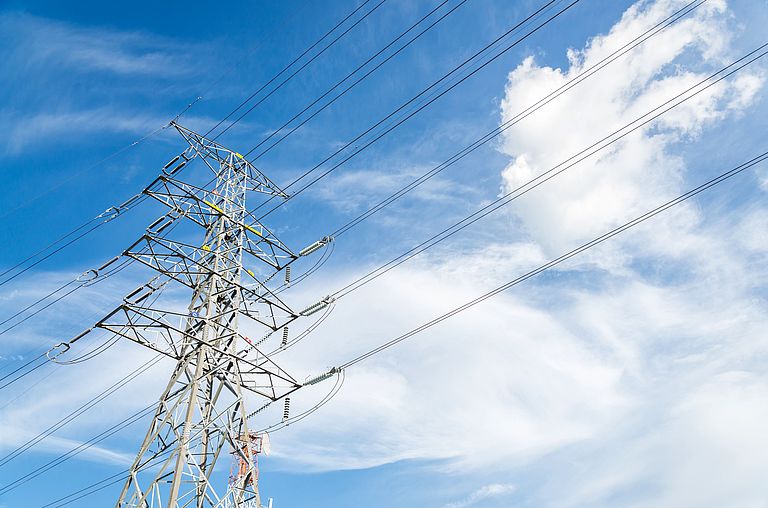 Energy efficiency
Maximal energy efficiency in yarn production
Whichever spinning system Rieter customers decide on, all machines and systems make a contribution to energy efficiency, one of the most important factors in the spinning process regarding sustainability. The largest share of energy consumption for each system is with the end spinning machines. Every energy saving, however small, clearly pays off here. But all other machines in fiber and spinning preparation also contribute to energy savings. With every new key machine the energy consumption per kilogram of output will be reduced compared to its predecessor model. Each reduction is a significant step towards environmentally friendly production of yarns.
High productivity positively impacts ecological balance
Maximizing Rieter machinery output and at the same time maintaining a high quality of sliver and yarn contributes to sustainable production. In addition, After Sales Services offer many opportunities to boost productivity and efficiency, as well as to ensure a longer lifetime of existing products through services involving performance optimization , preventive maintenance, customer trainings, upgrades and repair services. Each system, whether ring, compact, rotor or air-jet spinning system, enables spinning mills to achieve maximum productivity and thus competitiveness.
The example shows the advantage of a Rieter compact spinning system compared to a "mixed system" consisting of machines from different manufacturers. Producing the same amount of yarn with less machines and even less waste supports the environmental footprint of the spinning mill.
| Yarn Production of 400 kg/h | Competition | Rieter | Savings/Improvements |
| --- | --- | --- | --- |
| Main deviation in spinning | | | |
| Number of compact-spinning machines | 23 | 22 | 1 compact-spinning machine less |
| Production speed [rpm] | 22 000 | 23 000 | +4.5% |
| Number of spindels per machine | 1 824 | 1 824 | |
| Main deviation in preparation | | | |
| Number of cards | 12 | 10 | 2 cards less |
| Number of draw frames | 8 | 6 | 2 draw frames less |
| Number of combers | 10 | 9 | 1 comber less |
| Comber noil [%] | 18 | 17 | 1% less |
| Waste in blowroom and carding [%] | 6.1 | 5.8 | 0.3% less |
| | | | 100% combed cotton, Ne 30, alpha 3.57 |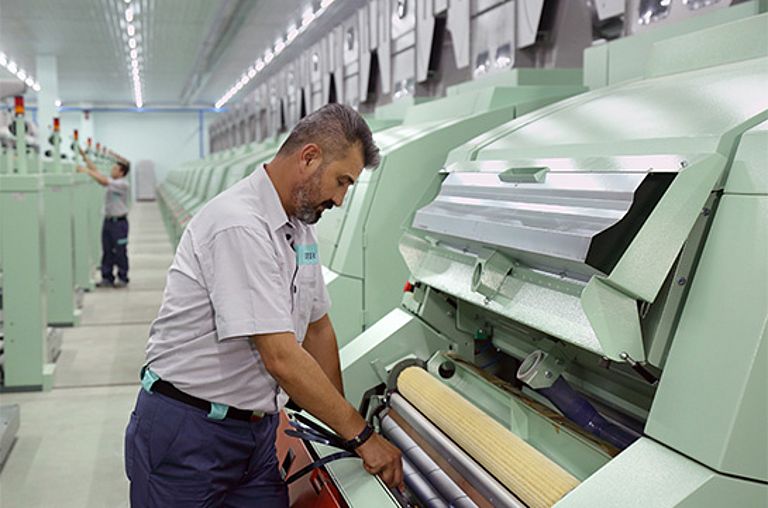 Valuable After Sales service
Boost mill efficiency along the product life cycle
Performance Optimization Services boost mill efficiency and reduce yarn production cost to give customers a competitive advantage and contribute to the sustainability of a spinning mill. Customers benefit from improved settings and expert recommendations regarding process optimization, reorganization, wear and tear parts exchange, conversion recommendations and much more.
Furthermore modernizations through retofits or upgrades, tailored training for personnel als well as repair and preventive services maximize mill performance, improve quality and thus ensure sustainable production.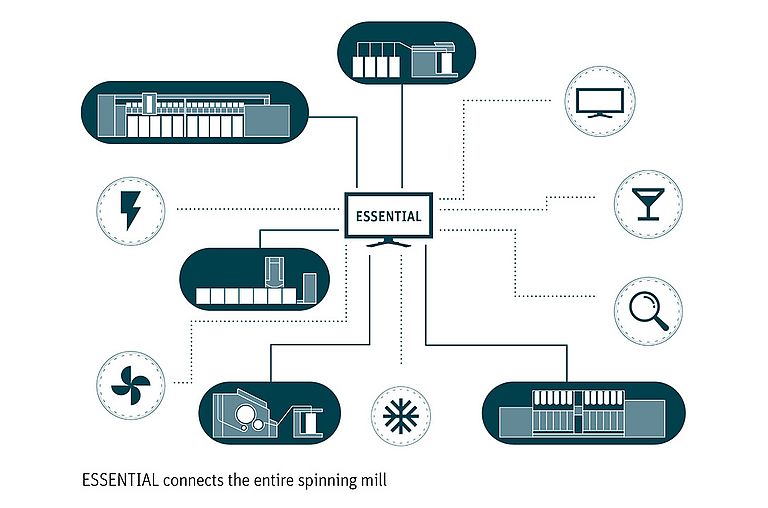 Digitization with ESSENTIAL
Digitization supports a sustainable yarn production
The mill management system ESSENTIAL – Rieter Digital Spinning Suite creates values from data by providing, in one view, key indicators on the spinning mill performance. This system connects all machines, auxiliaries, and business management systems of one or several spinning mills. By monitoring the entire process inefficiencies are quickly visible. Rapid response increases the efficiency of the spinning mill in terms of energy consumption, raw material utilization and other aspects and supports the spinning mill in sustainable yarn production.
Automation solutions
Automation improves handling of resources
Sustainability in the automation solutions of a production process involves using resources more efficiently and relieving people from exhausting work. Furthermore, automated machines and tailored automation solutions solve the challenges of the spinning mills, like growing labor shortages and a lack of industry-specific expertise. For a complete spinning mill it could be approved that various available automation solutions can lead to personell savings of over 40% and therefore allow to use personnel resources much more economically for more important tasks.
Longevity of components
Added value through longer lifetime
Longevity is a decisive factor to use resources most efficiently. A long lifetime of a machine respectively its components means long service intervals, less downtime, higher efficiency and less costs. One example is the new alloy MULTISHARP from Graf which increases the lifetime of card clothings by 50%. It lowers maintenance costs, guarantees consistent carding results and ensures a reproducable yarn quality over the entire lifetime.