Mill Assessment Leads to Production Increase of Between 44% and 70%
From blowroom to winding, Rieter identifies potential performance improvements for its customers. Mill assessments, which are part of Rieter's Performance Optimization Services (POS), help spinning mills increase production and become more competitive. Adama Spinning mills, Ethiopia, capitalized on Rieter's mill assessment and benefited with an increased production of 70% in rotor for processing Ne 32 and 44% for ring spinning production for processing Ne 40.
Every mill manager aims to enhance the competitiveness of their spinning mills in terms of high productivity, low conversion costs and high-quality output over the lifetime of the machines. POS is a smart option to achieve the desired results. Rieter experts initially perform a pre-assessment where they remotely analyze key mill data to evaluate the potential for a mill assessment. In the next step, the actual mill assessment, they report on potential mill performance improvements and conduct a mill assessment of one week in minimum on-site, making use of the company's broad portfolio of after-sales solutions and services. Rieter suggests ways to bring original equipment back to its initial quality and performance levels or even beyond.
Customers now enjoy the advantages of a customized mill assessment, as demonstrated by a recent assessment conducted at Adama Spinning Mills in Ethiopia.
The mill assessment carried out by Rieter experts proved to be highly valuable. As a result, we have witnessed significant enhancements in the machines' productivity and performance. Moreover, our technicians and operators have gained valuable insights, thanks to the know-how shared by Rieter experts during the mill assessment.Tadesse Ayele, Technical Manager at Adama Spinning Mills (Fig. 1)
Improving Productivity with Mill Assessments
15-year-old Adama spinning mill is a high-quality producer of coarse count cotton yarns with rotor spinning machine BT 923 and ring spinning machines G 33 and G 35. Due to the current market situation, the customer wants to produce finer yarn counts in rotor and ring spinning machines at higher productivity to be competitive in the market. Adama spinning mill initially responded by increasing the machine speed to improve productivity. The result was a lower yarn quality, but the market demand was a high-quality yarn and an increased output. The customer therefore reached out to the Rieter POS team and asked for support in enhancing production output while maintaining the yarn quality at a constant level.
During the two-week mill assessment by a team of Rieter experts, many improvements were carried out under the existing mill conditions. The Rieter team assessed the current performance of the spinning mill, conducted tests and provided advice on adjusting machine settings. Fine tuning of the machine and process parameters resulted in a significant gain in terms of productivity in rotor as well as in ring spinning. The aim was to optimize the entire Rieter spinning process, so that the customer can realize the full performance potential of its machines and systems. The experts looked for the root causes that were affecting the productivity. Based on the findings, the team implemented a series of measures:
Reduction of ends down in rotor spinning machines by process and machine fine tuning;
optimization of suction in rotor spinning machines for lower power consumption;
fine tuning of ring spinning process and machine settings;
doffer settings for doff-time reduction, and
imparting proper training to mill technicians and operators.
As a result, the rotor and ring spinning machine speeds and efficiency have improved. The rotor production has increased by 70% for processing yarn count Ne 32 (Fig. 2), while the ring spinning production increased by 44% for processing yarn count Ne 40 (Fig. 3) without affecting the yarn quality. This improvement in production and machine performance exceeded the customer's expectations.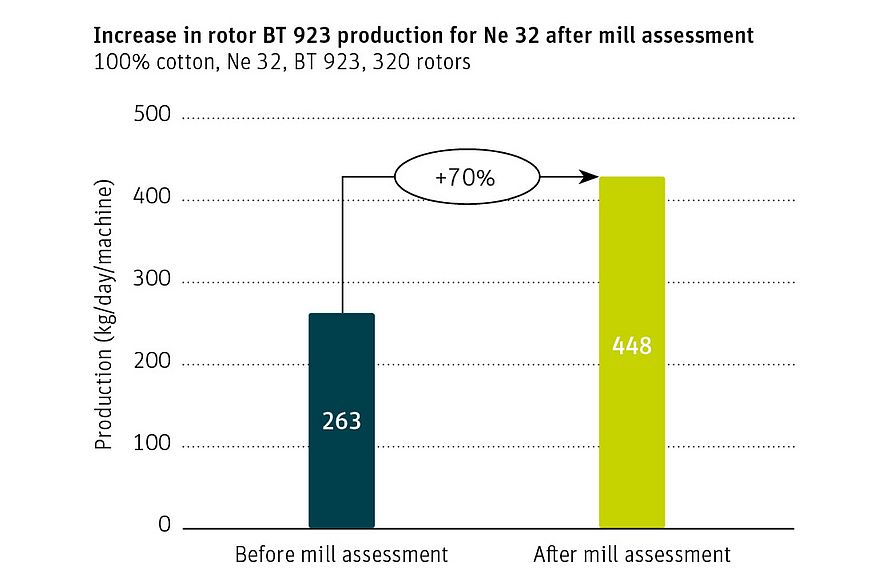 Customized Solutions for Further Improvement
POS offers a customized solution to every customer. Based on the improvements defined during the pre-assessment as well as the findings during the mill assessment, the Rieter experts were able to recommend the right set of after-sales solutions such as upgrades, parts, repair services as well as training and textile technology services (Fig. 4).
Rieter accompanies customers in a spirit of close partnership to enable their success. Building on years of experience and a global presence, Rieter experts share their textile expertise and engineering know-how, so customers can unlock the full potential of their technology. POS as a powerful solution helps spinning mills identify key areas of improvement to grow and remain competitive.