Minimizing Conversion Costs through Employee Training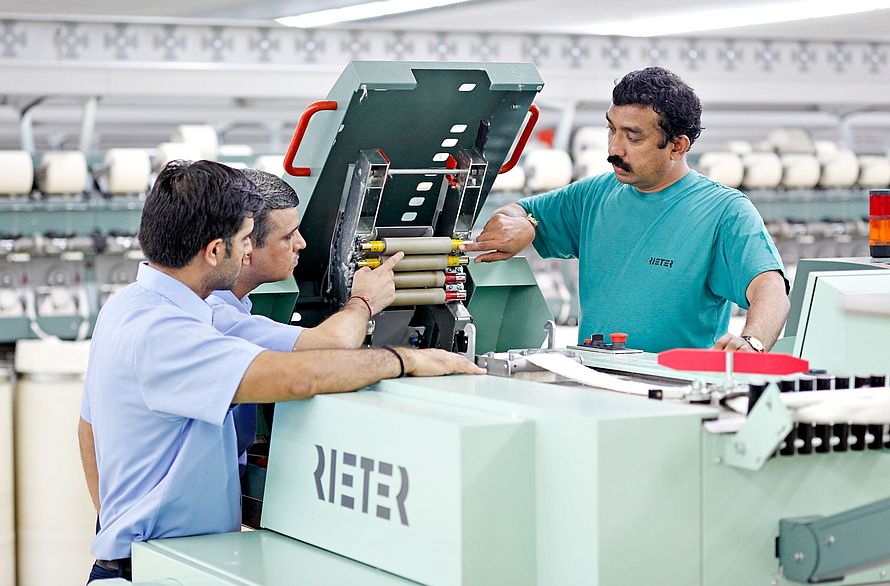 Labor expenses in different countries account for anywhere between 6 and 13% of total yarn production costs. The right training can make a world of difference. Rieter's INmill customer trainings teach mill staff how to minimize conversion costs, so they can have a positive impact on the spinning mill's bottom line.
Controlling and optimizing conversion costs is key for any mill manager in order to produce yarn profitably.
When investing in new machines and systems, mill managers need to be sure their machines run trouble-free from day one to avoid costly losses. It is therefore crucial to invest in the workforce's know-how so they can utilize machines most effectively.
Know-how is the key to success
Industrial yarn manufacturing is highly competitive. Know-how hence represents an important part of a mill's investment. State-of-the-art technology, advancing automation technologies, and fast-changing market requirements increasingly call for expertly trained staff in spinning mills.
When a highly productive spinning machine stands still because of a batch change, trouble or faulty running, this may result in considerable production loss. It is necessary to detect and solve problems fast. This can only happen with profound machine know-how.
The Rieter INmill customer training helps instruct the technical team to make sure that all qualitative and quantitative resources of the machines are used to their fullest potential. Mechanical and electronic issues are professionally located and quickly sorted out.
Today, spinning machines are easier to operate. Even so, high utilization and efficiency can only be ensured if maintenance settings and professional troubleshooting are optimized. With an INmill training program, the required know-how can be taught to the spinning mill's technical team.
Apart from the technical know-how, it is of utmost importance that the technical team can detect hidden economic inefficiencies in the spinning process and take measures to control them.
Designed around the specific challenges spinning mills face regarding cost and quality requirements, Rieter developed a training module called the Mill Economics training course. It covers the key success factors of spinning mills: Productivity, quality and conversion costs. The Mill Economics training course aims to connect theory with practice and provides insights into how to increase profit margins while producing consistent yarn quality.
Any technical and management measure in a spinning mill also impacts its overall commercial performance. However, success in the spinning industry requires the right preparation. This includes timely training of the technical team.
Tailored training programs
Rieter provides training to ensure sustainable production and top mill performance. Thanks to a modular concept, customers can design their own training according to their needs, focusing on a specific machine type, a certain in-house audience, or both.
Rieter also offers INclass trainings at its training centers in Switzerland, India and China, where participants benefit from hands-on experience on installed machines in well-equipped classrooms. The trainings are conducted by Rieter customer education specialists and provide ideal and real-life training environments.
Customer Testimonials
Mahbubul Alam, COO, Pahartali Textile, Bangladesh
"The Rieter INmill training was a wonderful practical course. This course was done with real life examples which made it enjoyable and helped us to optimize machine output with respect to productivity and quality. The training has enriched technical knowledge as well as confidence of our employees to face daily challenges and troubleshooting."
Eric Noe, President, Buhler Quality Yarns Corp, USA
"We manage to run the machine at its maximum utilization thanks to the know-how acquired during the Rieter INmill training program. Trained by Rieter experts, our staff benefits from practical learning on machines and receives support and advice on daily challenges."
Sheikh Md. Shamim, General Manager, Purbani Synthetic Spinning Ltd, Bangladesh
"The Rieter INmill training program taught by Rieter experts, enables our workforce to perform their roles with greater success. This also enriches their jobs, giving them greater satisfaction. We can see a huge improvement in productivity and quality as the approach to maintaining and troubleshooting machines has professionalized."
Md. Rafiqul Islam, General Manager, Mozzaffar Hossain Spinning Mills Ltd, Bangladesh
"The INmill machine training course with know-how on planned and proper maintenance of the machines helped us achieve maximum machine utilization. It further enabled our employees to cope with their daily challenges and strengthened team spirit. The economics training inspired us to implement a potential cost reduction idea and it keeps our conversion costs under control."