Spinnova Invests in Rieter System
Rieter is helping Finland's sustainable materials company Spinnova pioneer a wood-based textile fiber that requires zero chemicals, uses virtually no water, and hardly emits any carbon. Spinnova will spin the fiber into yarn on a Rieter system. The fully circular Spinnova yarn represents a breakthrough for sustainable fashion.
Following initial trials with the Spinnova fiber at our SpinCenter in Winterthur, Switzerland, Rieter will install a full system on Spinnova's premises in Jyväskylä, Finland by end 2022. The industrial scale spinning facility will enable Spinnova to streamline its commercial textile development, enhance brand collaborations, and further improve the yarn's market entry capabilities.
The sustainably sourced raw material Spinnova processes comes from the same wood pulp that is used to make paper, drawing from Finland's long-standing expertise in the paper industry. Spinnova is also exploring other sustainable sources for fiber production, including leather and agricultural waste.
Spinnova's technology uses a mechanical process where the fibers are produced by extruding the pulp through a nozzle and, in contrast to viscose − also a wood-based fiber − requires no harmful chemicals. In addition, the process requires 99% less water and has low carbon emissions compared to conventional viscose fiber production methods.
In-depth textile know-how from fiber to yarn
Rieter will continue to support Spinnova in defining the material characteristics required to create a wood-based fiber that can be spun into a yarn that meets the necessary textile properties.
The spinning line comprises a complete system of Rieter machines. With its unbeatable precision, the UNIblend A 81 will start with an initial mix of 70% cotton and 30% wood-based fiber on its way to achieve a 100% wood-based yarn.
"The proximity of a spinning facility will make a huge difference in our commercial phase. We can make fast trials, not lose lead time, and test smaller batches than before. This will significantly improve the textile R&D with our wood-based Spinnova fiber", explains Spinnova's CEO and co-founder Janne Poranen.
Fully flexible production with customized spinning systems
The in-house trials with the ring spinning machine G 38 already showed promising results. Thanks to the compacting device COMPACTdrum, the G 38 is fully flexible in producing both high quality ring and compact yarns. An additional highlight is that the G 38 is linked to the automatic winder Autoconer X6.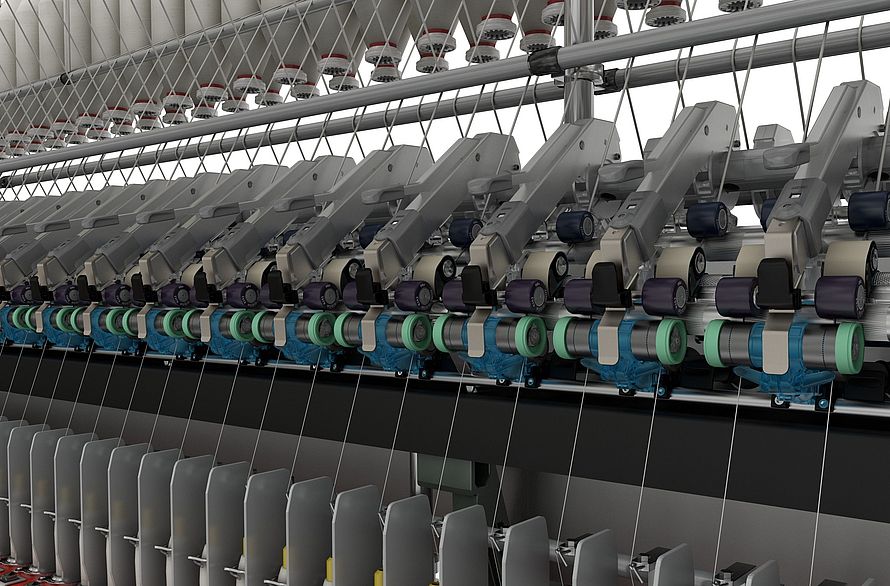 The fully automatic rotor spinning machine R 70, known for its stellar productivity, outstanding raw material utilization and low energy consumption, can produce up to four different yarn types at once. This will be important as the trials proceed.
Rieter supports sustainable yarn production
Rieter's system is ideally positioned to support Spinnova's quest to achieve disruptive circularity as it is roughly 20% more energy efficient than lines made up of machines from different suppliers, thus helping to keep carbon emissions low.
"Sustainability is an integral part of the Rieter strategy, and fibers with minimal environmental impact play an important role in sustainable yarn production. Rieter is pleased to contribute with its state-of-the-art machinery to Spinnova's product development", says Roger Albrecht, Head of the Rieter Business Group Machines & Systems.